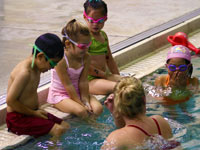 Michael Phelps Swimming (MPS), programming of Michael Phelps Swim School, is a world-class program of swimming methodology that has been developed and enhanced over the course of three decades of practice and instruction. Designed for swimmers of all ages and abilities, Michael Phelps Swimming is rooted in its comprehensive understanding of how individuals develop their motor and cognitive skills, both children and adults, as it relates to the properties of water through the programs' philosophy of the four "B's": Body Position, Buoyancy, Breathe Control and Balance. The principles of Michael Phelps Swimming create an environment of teaching and coaching that meets the needs and abilities of swimmers individually
Michael Phelps Swim School is a Baltimore based, learn-to-swim program, for ALL ages and abilities! Swim classes include personal safety, stroke development, water sports and games, personal growth, and rescue skills. The top priority of the MP swim school curriculum is to insure that each participant has an opportunity to become comfortable, confident and safe in and around the water.
Formerly called The North Baltimore Swim School, Michael Phelps Swim School at Meadowbrook offers a variety of educational swimming opportunities for lifelong aquatic fitness. Operating in 6 week sessions, 5 times per year, MPSS offers up to 40 hours per week of day/time options at various levels of abilities. These options come in group, private, or semi-private formats.

Michael Phelps Swim School Adult Programs at Meadowbrook include on-going group lessons, aquatic personal training, and seasonal Open Water clinics.
For more information visit Michael Phelps Swim School
---